A few years ago, after a long day of working on Star Wars Battlefront or Battlefield, a group of EA DICE developers would gather in the studio for an evening of Warhammer, Dungeons & Dragons, and other tabletop games.

Over time, this hobby sparked a creative urge within the group.

"I know that DICE will forever make shooters, but [I asked the group] if we could do anything, what would we do?," recalls Dennis Brännvall, previously creative director at DICE. "Everyone was like, 'We'd make RPGs because that's what we love, that's what we grew up with, that's what we play.' So that's what we wanted to do.

"We felt there are really good RPGs [made] in Eastern Europe and some are now popping up in the UK, but no one really in Northern Europe or Scandinavia [are making them]. We want to build the next great RPG studio in Northern Europe."

This is what led them to form Wayfinder Games, a brand new studio that emerges from stealth today.
"We want to build the next great RPG studio in Northern Europe"

Dennis Brännvall, Wayfinder Games

The studio was founded in 2020 by Brännvall and his partner Fia Tjernberg (pictured above), previously studio director at DICE – as well as their joint friends Manne Ederyd and Adam Clark, who were also DICE alumni. The four recruited a team around them – again, many of which are former DICE devs – and within a year the startup had completed its first seed round. It had also secured the support of three crucial partners: early investor Behold Ventures (founded by former DICE general manager Karl Magnus Troedsson and Battlefront executive producer Sigurlina Ingvarsdottir), Dreamhaven (a developer and publisher formed by Blizzard veterans Mike and Amy Morhaime), and Makers Fund, its lead investor.

"[This support] gave us a good runway to start," says Tjernberg, CEO of Wayfinder. "We want to remain independent in a world where there aren't many independent companies anymore. Who knows what we are getting ourselves into?"

Wayfinder Games currently employs 18 people but hopes to grow to 30 while it makes its first title. Brännvall and Tjernberg are both keen to keep the studio small, having seen the complications that can arise at AAA studios with hundreds of people working on a single project.

"We've done the pyramid of managers and all of those things and you very quickly get away from touching the software and talking to the people writing the code," says Brännvall. "That was something that was really precious to us. With about 30, we can make do with a single line of producers and us as leaders, then everyone who is working on the game. When you start going to 60 or 90, then you start needing to have middle leads in order to keep everyone going. We wanted to try doing it without that."

Brännvall adds that having a smaller team and being independent will grant more breathing room when working on their first game. He recalls that the 2016 Star Wars Battlefront was turned around in less than two years with about 100 people – one of the fastest-paced projects he has worked on, and not the most enjoyable experience. As it stands, Wayfinder's debut title is "years away."

"And it's nice to be years away for a change," he says.
"The [AAA] fanbase doesn't really want innovation. They want familiar"

Fia Tjernberg, Wayfinder Games

After years of working on shooters, the Wayfinder Games team veering into RPG territory seems more jarring, but Tjernberg emphasises the opportunity they see in this space.

"We have chosen to go into a genre that hasn't maybe seen as much innovation as we would hope," she says. "Pretty much all of us have worked at AAA, where the fanbase doesn't really want innovation. They want familiar, they want what they are used to from other games.

"Innovation is difficult because it's slow. It means we will test things and we will fail a lot and we need to learn from those failures and build something that's great out of that. Getting everyone into a mental state where failing is fun and part of the job, part of our success, I think, is the biggest challenge. But it's really fun."

Brännvall adds: "It's hard to look at our track record and know what to expect. It feels like a fresh canvas. I love playing isometric RPGs like Baldur's Gate and what have you, but I'm not sure whether loving a specific piece of a subgenre is enough to say 'I want to make something that's better than that.' They're already making Baldur's Gate 3. There isn't [a case] where I want to make more of the thing that I love."

Instead, he compares Wayfinder's approach to fanfiction, where those that love a particular universe apply their own spin on things because they're frustrated by what has and hasn't been done before. Similarly, Wayfinder is looking at a genre the team loves and questioning what frustrates them, what they feel is lacking – then (hopefully) building something that addresses that.

"There's a lot of games that take inspiration from tabletop RPGs and D&D, but they try to translate either the ruleset or almost the exact feeling of putting a D20 animation into a video game because in D&D you'd resolve something with a D20 dice roll," Brännvall explains. "We want to make games where you feel that within your small community, you have your own version of our fictional universe that you are enjoying playing. [Two groups] might buy the same D&D adventure, but the nature of one group versus the other means that experience is going to be different.

"We are interested in persistent worlds and MMOs, but with private servers, where it's just you and your community enjoying this. It's not a massive thing with 10,000 people on a shard; it's your own personal Minecraft or Valheim server, game-structure wise.."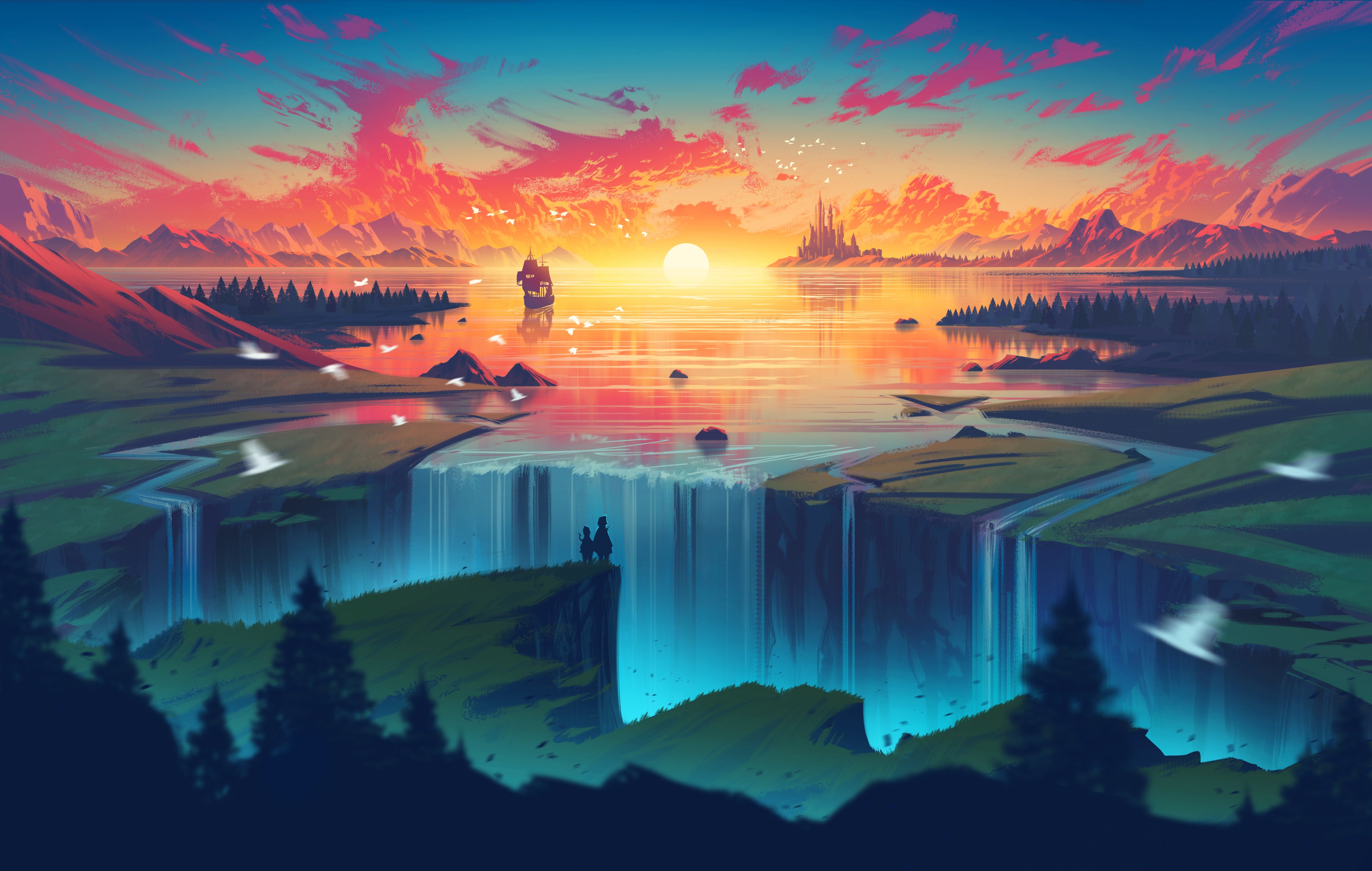 While the Wayfinder team may have little direct experience of making RPGs, they believe their collective time spent on online multiplayer games like Battlefront and Battlefield will be invaluable. As Brännvall observes, work on Battlefront 2 also gave them an understanding of how to quickly turn out additional content to support a live service model, and ensure the quality is up to the standards set by the original game.

Tjernberg adds: "When you examine games like Battlefield and Battlefront, they're not just shooters. They're very social games that bring people together. They're built for passionate communities and that's the part that we love about it."

The pair are unable to share more specific details about their title, but can confirm it will be an original property. While there are high hopes to have the game released for consoles and include cross-play, they say it is likely to be PC-only to begin with, and the team is considering releasing it via Early Access.

As hinted above, Brännvall says the game will be an online fantasy RPG in a persistent world and built around co-operative experiences. However, he teases that cooperation will not always rely on players being online at the same time.
"Reading, writing, taking walks, taking a bath, playing golf… those moments [are] necessary for good work to happen"

Fia Tjernberg
"You can play it even while the others are logged off," he says. "In an MMO, you can schedule your group activities, so you're going to do this raid or dungeon tonight with a certain group, but you're [also] going to grind [solo] for [certain items and supplies] in the morning so [you] can share it with the rest of [your] team. I'm really interested in combining those things.

"If you have more spare time than your friends, that's benefitting everyone because you can show up with drinks or food for everyone and they are really happy that you spent the extra hour playing this so all of [you] can enjoy it. We're in that space; it's about travelling around, exploring the world, going on adventures like you would in any fantasy fiction and then combat, fighting evil, gaining loot and treasure. Like you do in most games."

One last aspect about Wayfinder Games is the studio's workplace structure. Like so many new companies formed in recent years, Wayfinder is a fully remote studio. In fact, Brännvall and Tjernberg tell us they're working in "a redecorated wardrobe that [they] turned into an office." But it also has a more flexible schedule. The core hours are 9am to 12pm, and beyond that it's up to each individual how they fit the rest of their work into the day.

"We decided early on that we want to be a company that attracts people with families, and there are things that they need to take care of in life," Tjernberg explains. "We are looking at work-life balance as this thing where previously many gurus were saying you have to separate life and work but we think of it as the opposite – life is life and sometimes you work [and] sometimes you don't work.

"We're trying to build a culture where we're all comfortable blending that a little bit more so that when a sick kid is coughing and you need to help them out, or a crazy kid jumps onto screen, that's just a Tuesday."

There may come periods where the structure changes slightly – two weeks before a milestone deadline, for example – but Tjerberg remains confident that "if most weeks during the year are flexible afternoons, yet steadfast mornings, that is still an improvement for the overall toll and feeling of fake urgency that a creative project can have on one's mind."

"We decided this because as a company we feel we have a responsibility to fight toxic crunch, and we thought 'let's take a giant leap here instead of a baby step'," she adds. "We don't count hours, but we often encourage each other to not spend more than 30 hours at your desk, because we recognise that a lot of creative work is happening during their free time too. Reading, writing, taking walks, taking a bath, playing golf. We want to recognize those moments as necessary for good work to happen."