What is Thetan Arena?
Thetan Arena is a blockchain game with role-playing, MOBA (multiplayer online battle arena), and fantasy elements 

Players earn THC or THG by participating in battles or completing other tasks

Since the launch of Thetan Arena, it has attracted many players. It was once the largest

MOBA game

on BSC and now has over 140,000 users.
Thetan Arena was launched in December 2021 by Wolffun, a leading Vietnamese gaming company. The vision is to create a sustainable GameFi ecosystem that integrates cryptocurrency, players, and media. It has received investment from VCs such as Animoca Brands and is backed by the gaming guild YGG.
Thetan Arena has two types of tokens, Thetan Coin (THC) and The Gem (THG). The gameplay is diverse, as players can play solo or create a team in battle. The gameplay is similar to traditional MOBA games such as League of Legends or Honor of Kings.
How does Thetan Arena Gameplay work?
Thetan Arena differs from Splinterlands and many blockchain games in that it is not web-based. Players need to download the PC / iOS / Android version to play, then sign in as a guest or register as a full player with your MetaMask account.
Sources: Thetan Arena – Sign up
Obtaining Heroes
There are four main ways to get heroes in Thetan Arena: System Gift, Buying, Renting, or Blind Box Summoning.
1) System Gift
Log in to the game interface, you can get three heroes for free, the type quality is random. Free heroes cannot be traded on the market.
There are three main types of heroes in Thetan Arena, Tank, Marksman, and Assassin, each with three qualities, Common, Epic, and Legendary.
Different heroes have different skins and different combat abilities. Players can buy skins (for equipping heroes) to enhance their heroes' combat abilities. Skins are divided into three categories by rarity: Normal, Rare, and Mythical.
2) Buying
Players can use THC to purchase heroes directly from the Marketplace. As of April 10, the most expensive hero is priced at 99,999.999 THC, or about $1,077.71. The least expensive hero is priced at 670 THC, or about $7.22.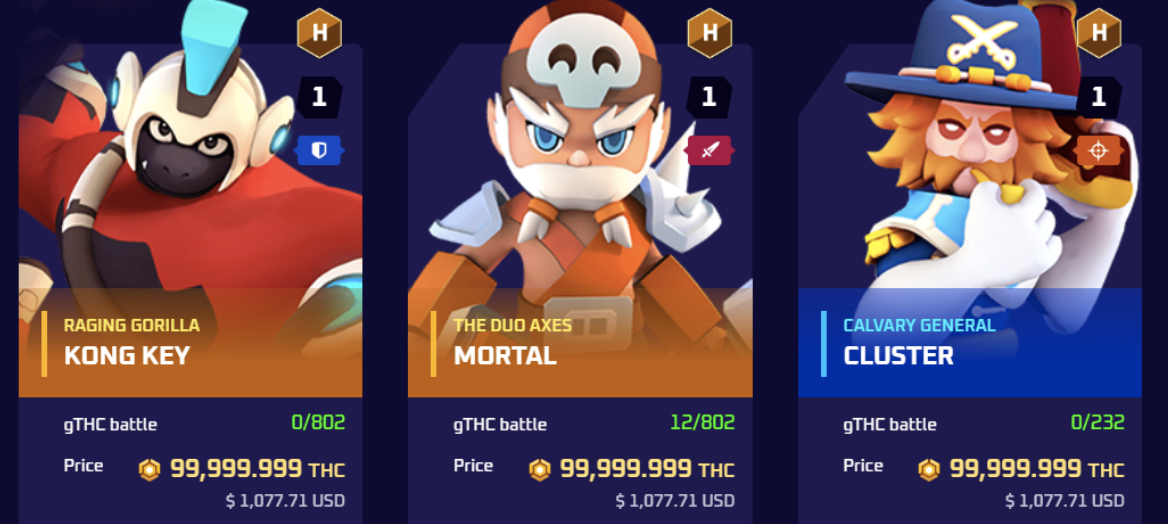 Sources: Thetan Arena – Most Experienced Heroes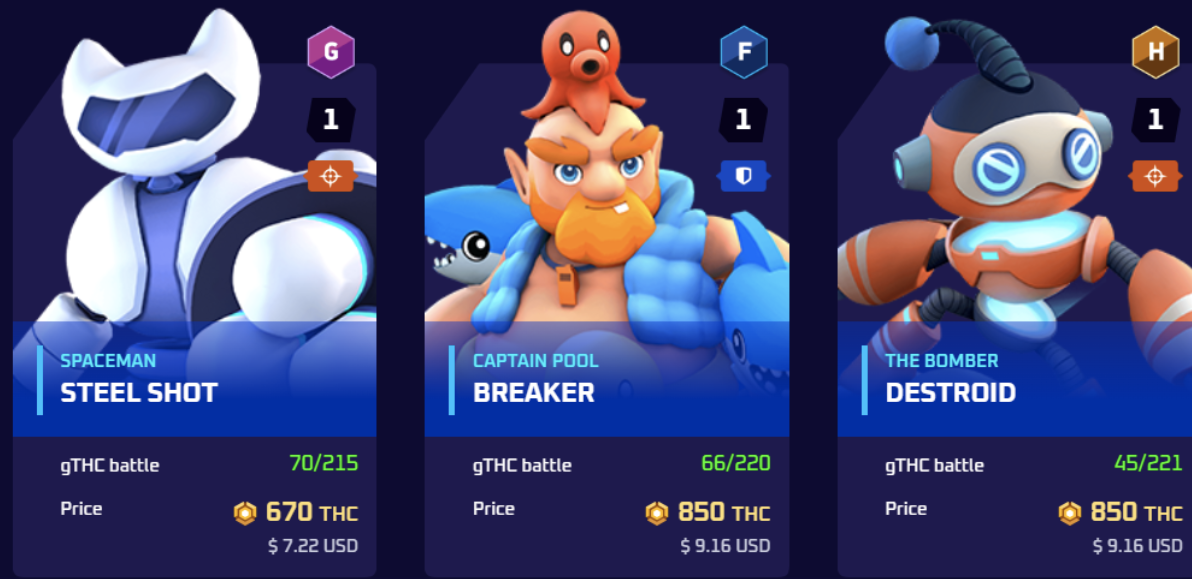 Sources: Thetan Arena – Cheapest Heroes
3) Renting
Similar to Axie Infinity, Thetan Arena allows players to rent heroes to play and earn rewards. As of April 10, the most expensive hero on the rental market is 50,000 THC, or about $547.8. The cheapest is 50 THC, or about $0.54.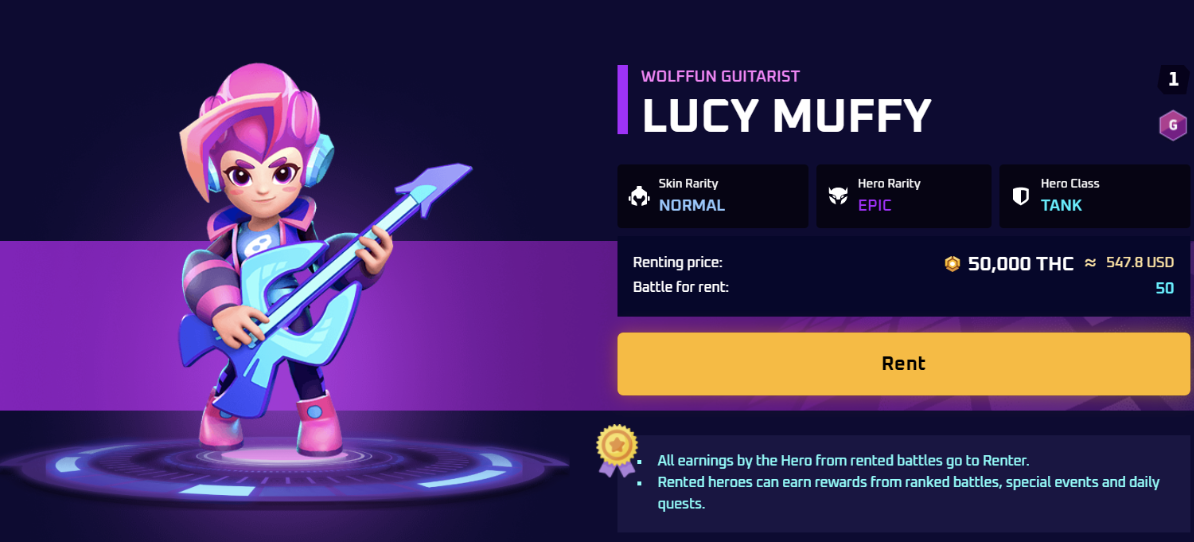 Sources: Thetan Arena – LUCY MUFFY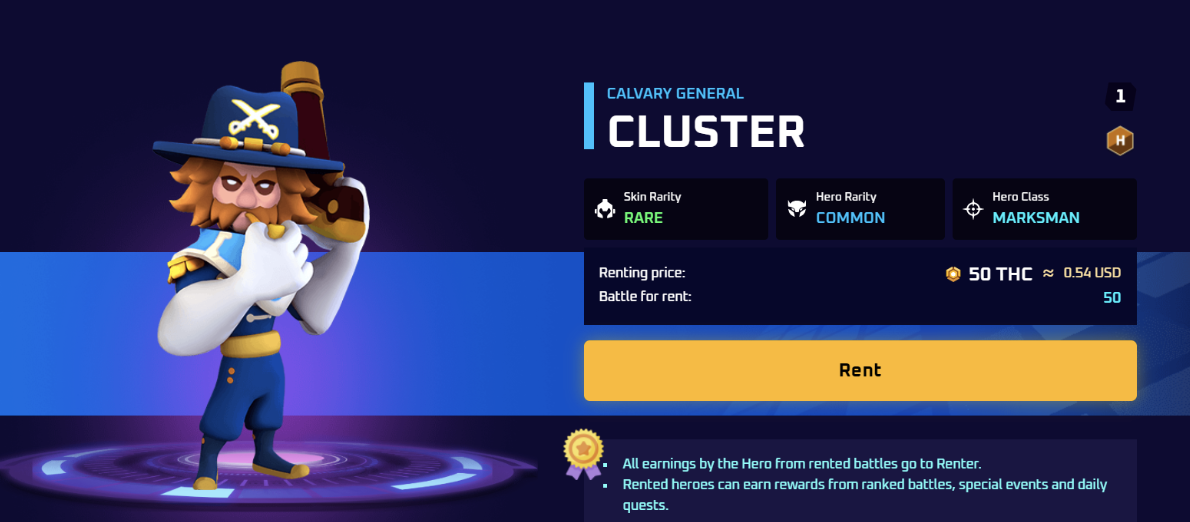 Sources: Thetan Arena – CLUSTER
4) Blind Box Summoning
Thetan Arena has a blind box extraction method to enhance the excitement and adventure of the game. Players can use two token combinations from the Titan Arena to buy blind boxes, with different blind boxes sampling heroes of different rarities.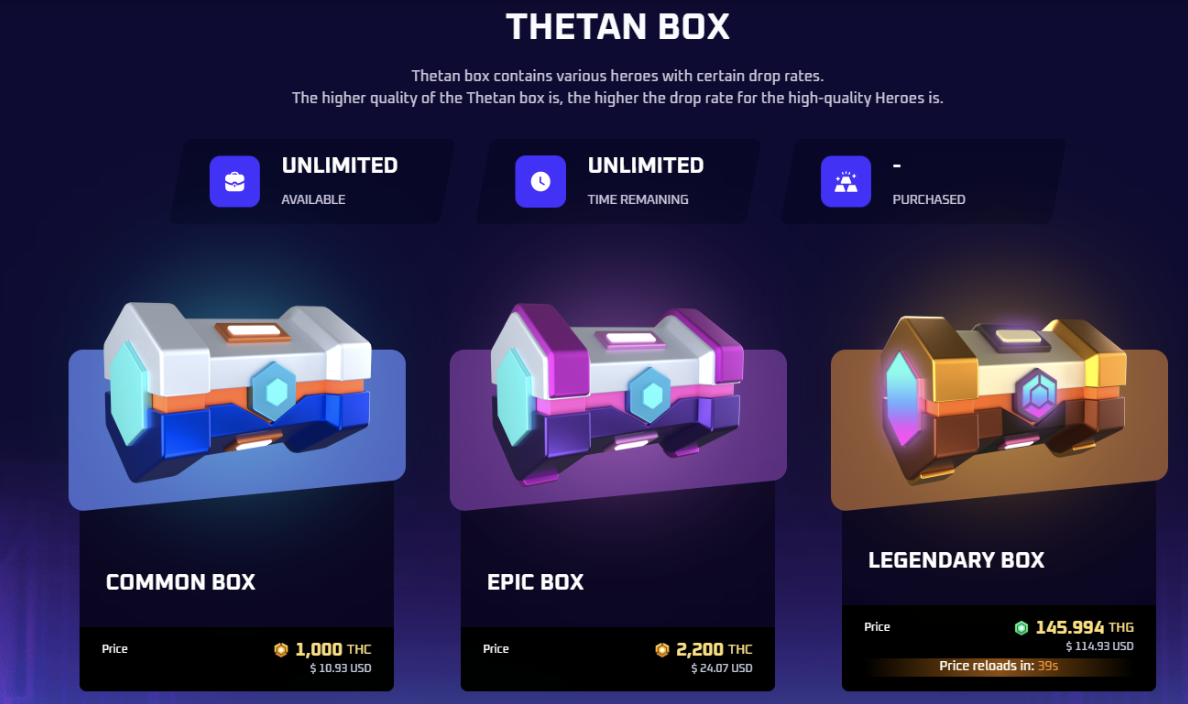 Sources: Thetan Arena – Thetan  Box
Gameplay
After getting heroes, players can officially open the game. There are four main ways to play: Battle Royale, Tower, SuperStar, and Death Match.
Battle Royale mode is more similar to Playerunknown's Battlegrounds mode. It can be played by a single or two players fighting together. The main difference is that if there are two players as a team, one is killed, and the other can save him.
Players find and destroy the supply boxes, and kill enemies within 4 minutes to ensure survival, becoming the only winners on the battlefield. 
It is important to note that the four safe zones will shrink during the 4 minutes, so if the hero fails to stay in the safe zone, he will die directly.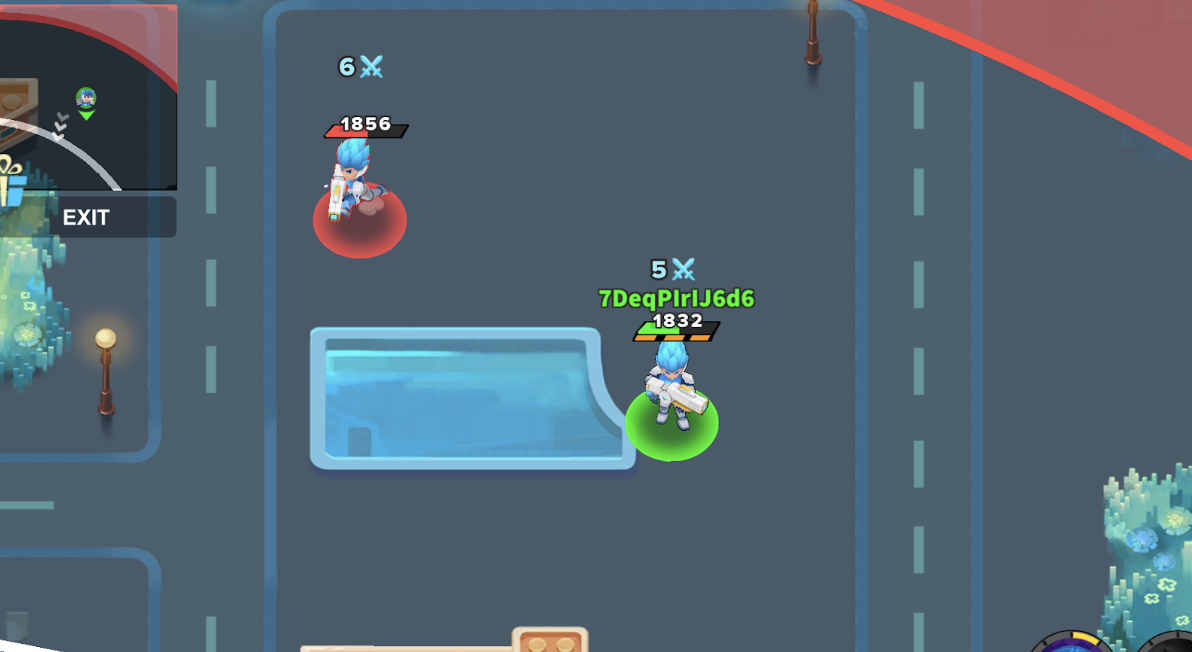 Sources: Thetan Arena – Battle Royale
The model of Tower Defense is similar to League of Legends, except that League of Legends has 10 players and each game takes longer than 30 minutes. A single game of Tower in Thetan Arena is less than 5 minutes long.
Gameplay: Every four players randomly form a team, two in total. Both teams have 5 minutes to kill the other team's heroes and destroy the tower to win. If neither team's tower is destroyed within 5 minutes, the team with the higher tower life value wins.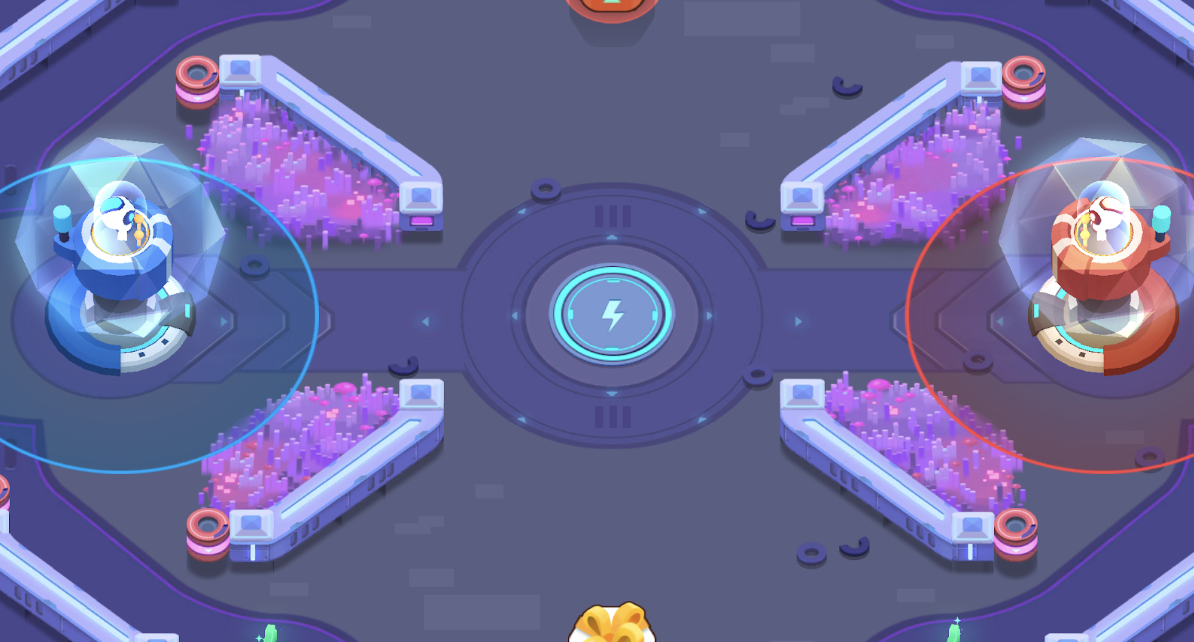 Sources: Thetan Arena – Tower

Superstar mode is similar to the Honor of Kings' Five Armies mode, but the main difference is the length. Thetan Arena is 4v4 in 4 minutes, while Honor of Kings is 5v5 in 8 minutes.
Every four players randomly form a team, two in total. Both the two teams compete for as many stars as possible in 4 minutes, with the team with the most stars winning. If one team has 50 more stars than the other by 4 minutes, they win outright. There is no need to wait for the 4 minutes to end.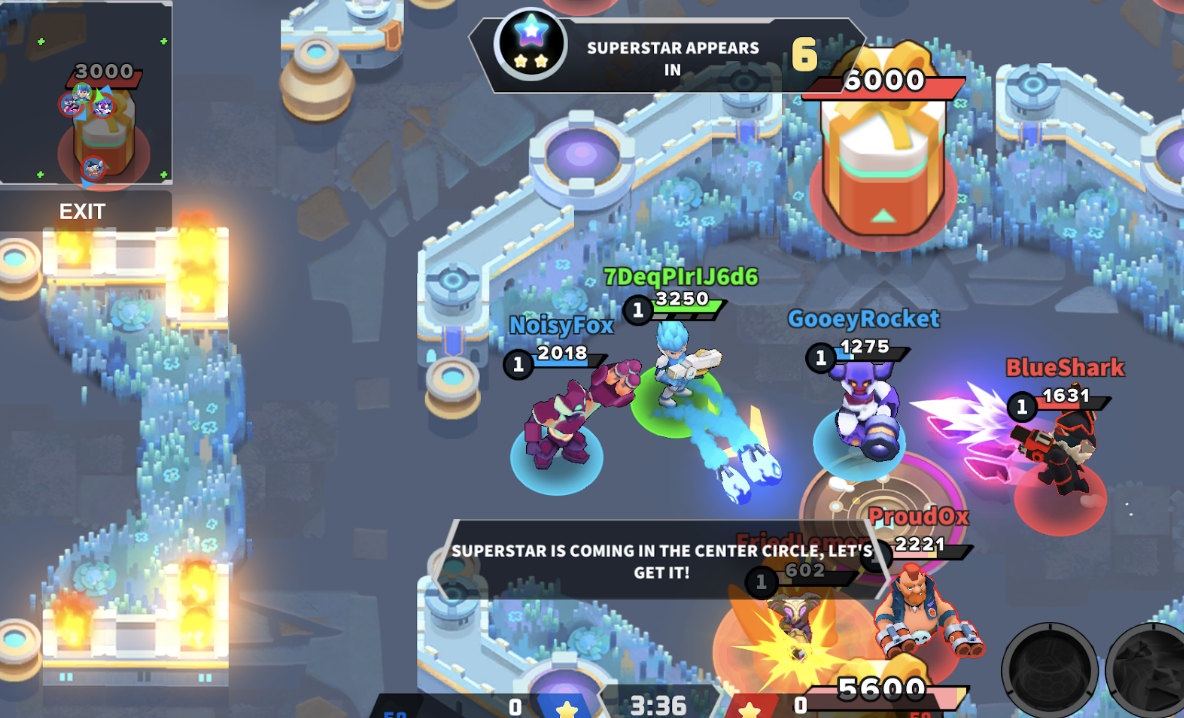 Sources: Thetan Arena – SuperStar
Deathmatch is similar to Honor of Kings' Flaming Mountain mode, but the difference is that Honor of Kings players win by killing 30 players, while Thetan Arena has no specific requirement for the number of kills.
Every four players randomly form a team, two in total. The goal is to kill more players in 3 minutes, and the one with more kills wins.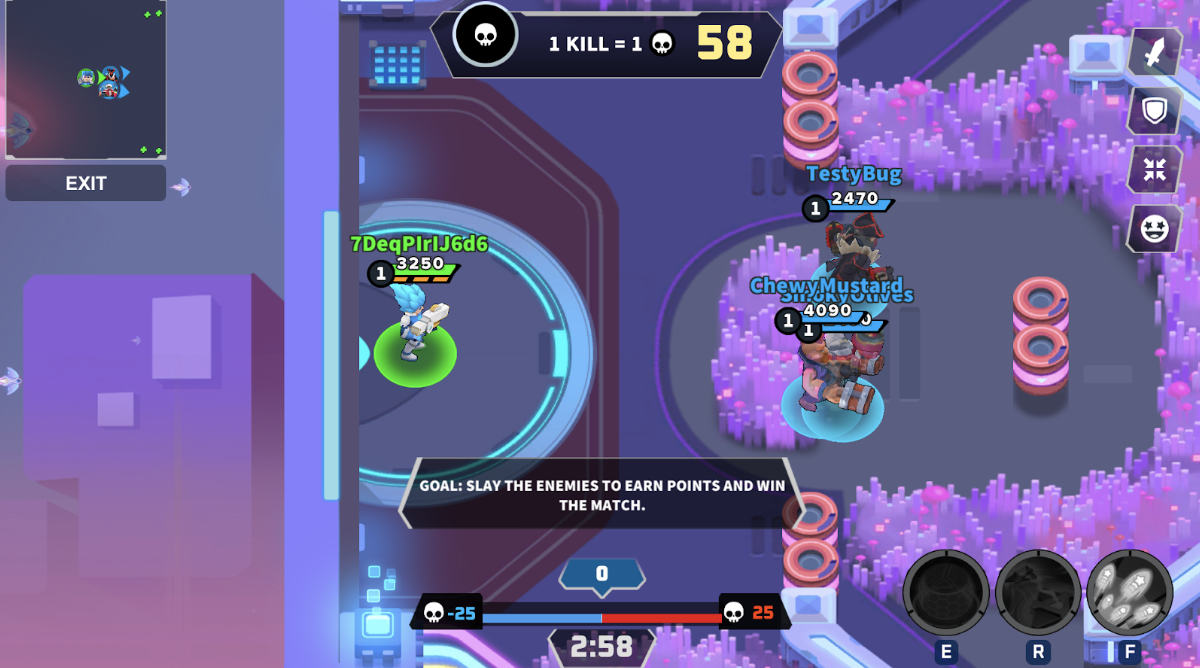 Sources: Thetan Arena – DeathMatch
In addition to the four main types of gameplay mentioned above, Thetan Arena opens limited-time play modes occasionally. These include Campaigns, leaderboard competitions, and more.
What are Thetan Arena's Main Features?
The main features of Thetan Arena are the following:
Free to play

. Many players who switch from traditional games to chain games are usually asked to pay a certain amount of money to start the game. E.g. The Crypto You.

Lower threshold difficulty.

Many of Thetan Arena's modes are similar to traditional MOBA game modes, making it more suitable for players to get started.

Innovation combined with media.

Anchors broadcasting live games to increase Thetan Arena's reach can earn rewards from Thetan Arena's community.

The maximum length of each game is 5 minutes.

Quick to play casually.
Tokenomics: Thetan Gem (THG) and Thetan Coin (THC)
Thetan Arena has two types of tokens, one is Thetan Gem, the governance token simply referred to as THG, and the other is Thetan Coin, an in-game token, simply referred to as THC.
THG is a standard BEP-20 token. Its maximum supply is 420 million tokens, less than 35% of which have been released, and will be fully released on September 16, 2024. 26% of THG is allocated to the team and consultants, 10% to the initial strategic offering, and the remaining 64% to support the development of the game and the ecosystem.
THG is mainly used to purchase blind boxes, participate in the community governance of Thetan Arena, and consume transaction fees. Players can purchase directly on the exchange, earn money by participating in tournaments, marketplaces, or other events, or pledge their hero holdings to complete and get rewards.
As of April 10, the price of THG is $0.97, with an all-time peak of $16.57 on December 1, 2021.
Footprint Analytics – Price of THG
To prevent digging and selling, Thetan Arena has set a token withdrawal threshold, i.e. a player account has been created for at least 12 days before it can be withdrawn THG (once every 48 hours.)
THC is also a BEP-20 standard token, but its total supply is not capped in Thetan Arena games. It can be used in combination with THG to buy blind boxes, reward the anchors during live gameplay, or sold on the market. 
Players are rewarded with gTHC for each battle they win, with the size of the reward depending on the number of wins and the rarity of the heroes, with the higher the rarity the higher the reward. They can also get it by completing quests.
gTHC can be redeemed for THC withdrawals once every 48 hours if and only if the player has more than 750 gTHC in their account, their account has been created for at least 12 days, and their rank is above Bronze I Rank.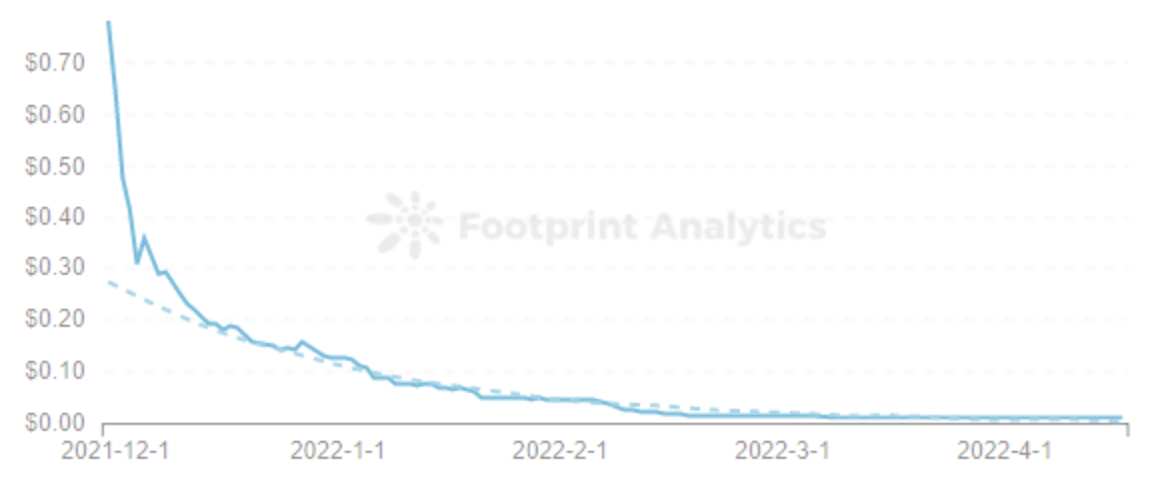 Footprint Analytics – Price of THC
As of April 10, the price trend for THC is generally in line with the price trend for THG. Both have been trending downward since December 2021. The current price of THC is $0.012, with an all-time high of $0.78 on November 30, 2021.
Thetan Arena's Performance and Stats
While Thetan Arena is the most popular multiplayer game in the BSC chain, Thetan Arena's user performance is poor. Active users are moderate, but new user growth and retention rates are weak.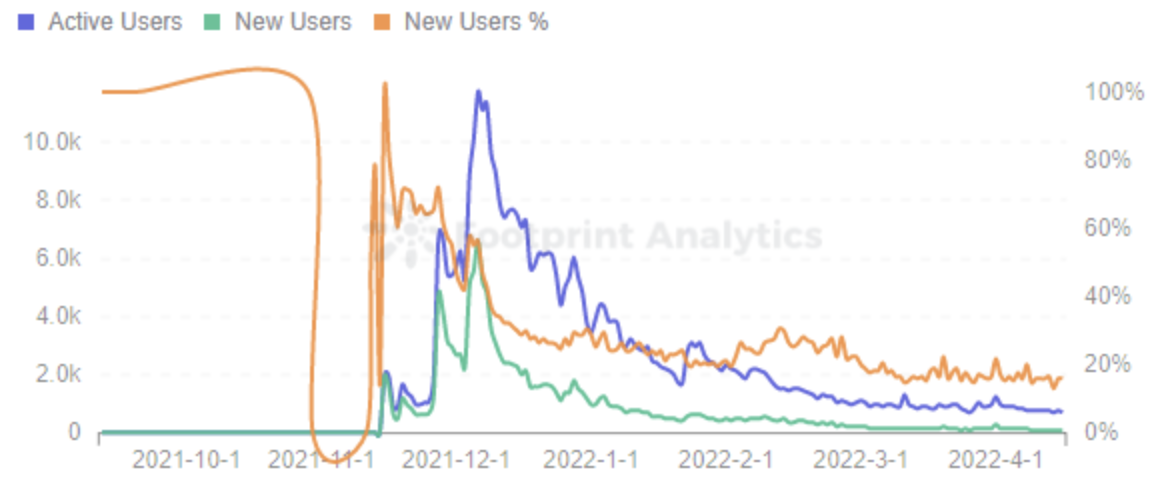 Footprint Analytics – Daily Gamers Trend | Thetan Arena

Footprint Analytics – Thetan Arena's User's Monthly Retention
In addition, one of Thetan Arena's greater strengths lies in its fit with traditional games, without a high barrier for players new to the chain game. This makes Thetan Arena the king of BSC on-chain MOBA games, but it also limits Thetan Arena and will require some innovation in the future.
This piece is contributed by the Footprint Analytics community. 
The Footprint Community is a place where data and crypto enthusiasts worldwide help each other understand and gain insights about Web3, the metaverse, DeFi, GameFi, or any other area of the fledgling world of blockchain. Here you'll find active, diverse voices supporting each other and driving the community forward.
Data Source: Footprint Analytics Thetan Arena Dashboard 
Disclaimer: The views and opinions expressed by the author should not be considered as financial advice. We do not give advice on financial products.