Light-hearted games with fun-loving gameplay are fine but they don't always make the cut. Especially when you wish to test your gaming prowess by going against all odds. Times when you want your killer tactics to be as effective as the powerful weapons, strategy games come into play. So, if you are all geared up for intriguing missions full of insane challenges, check out these 20 best strategy games for iPhone and iPad.
Best Strategy Games for iPhone and iPad
What Sort of Strategy Games are You Looking For?
The App Store is loaded with a variety of strategy games. From real-time strategy war games to strategic puzzles to tactical city-building to vintage stick figure games, you've got plenty to experiment with.
If you are more inclined towards creativity, empire-building could be a perfect match-up for you. And if leading the army to victory through action-packed battles is your penchant, war games could be the way to go. However, should you wish to foster problem-solving skills, survival games like Valheim where all odds are stacked against you could be your thing.
While some games have a fixed gameplay, others offer a mix of almost everything. As to which one should you pick, it all comes down to your preferred gameplay and what sort of difficulty level you are comfortable taking on.
List of Best Strategy and RTS Games for iPhone
1. Clash of Clans
If competing in epic clan wars and leading your troops to victory thrill you, Clash of Clans is for you. This strategy game is about building a robust village that can withstand incessant attacks, raising a massive clan, and then showcasing your heroics in clan wars. But before going for the kill, you will need to create an effective battle strategy with troops, spells, and heroes to win the battles.
Clash of Clans offers a multitude of traps, mortars, cannons, bombs, towers so that you always have the preferred weapons to attack enemies and also defend your village. Make sure to grab as many resources as you can and steal coveted items to upgrade your village and also unlock epic heroes like Royal Champion, Battle Machine, Grand Warden, and more.
Moreover, you can compete with players from around the world and get to the top of the global leaderboard in the legend league. If you wish to bring some personalization into the mix, create fascinating PVP experiences through friendly wars and special live events. With rich graphics and engrossing gameplay, Supercell's Clash of Clan never fails to excite you.
Install: (free, a pocketful of gems is available for $0.99)
2. Rise of Empires: Fire and War
Rise of Empires: Fire and War aka ROE is a real-time strategy war game where you will don the role of a leader of a small town. Destroyed by the invasion of the eastern dynasty, the small town looks up to you as a savior who will build the empire once again from the ruins. So, recruit legendary heroes who will give their best for you, train your troops, and also join powerful allies who will fight along with you in the never-ending war.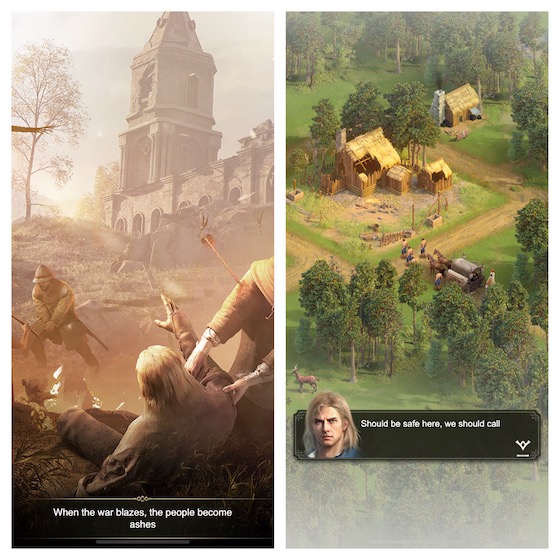 With realistic graphics, intense combat against players from across the world, and strategic gameplay, Rise of Empires is exciting to play. Apart from quenching your thirst for wars, ROE also offers you the desired freedom to build an awesome city with upgraded facilities. So once you've exhausted your energy on the battlefield, you can engage in building a city with your heroes for some peace of mind.
Install: (free, resource hot sale430 is available for $0.99)
3. Clash Royale
Deservedly ranked as the number one game in the "Strategy" category (4.6 stars out of 5 from over 2M ratings), Clash Royale has got all the ingredients to be your go-to destination for fast-paced battles. The real-time multiplayer game centers around building a battle deck and then decimating the rivals by using your might and wisdom.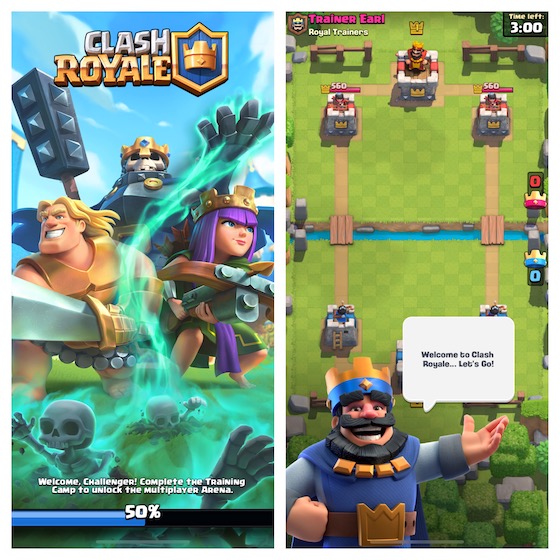 To get going, pick up unique cards and place them smartly to knock down the enemy king and princess from their towers. Bring all your might to win battles and progress to new arenas to unlock a ton of new cards. What's more, it also offers you the opportunities to show your heroics in global tournaments and win rewards.
Action-packed battles aside, you can collect and upgrade your cards featuring Clash of Clan troops, defenses, spells, and more. Not just that, you will also love grabbing seasonal items such as tower skins, magic items, emotes, and more. Taking all these goodies together with the interesting gameplay into account, Clash Royale is one of the best strategy games for iPhone and iPad.
Install: (free, pass royale is available for $4.99)
4. State.io – War Strategy Games
Should you fancy taking on strategic puzzles, "State.io" could be worth having a go. With a tactical clash of dots and intriguing countries' takeover, this cell battle game is designed to challenge your logic. In the battles, you will fight against armies to solve puzzles and conquer countries to expand your territory. Bear in mind, each of your moves will have huge consequences, so make sure to bring your best strategy into play.
This war simulator game initially allows you to fight 1v1. Once you go past the first levels, it allows you to lock horns with more players. Since it also works offline, you can play the cell battle games with your friends and loved ones without burning your limited bandwidth.
Install: (free, ad-free version is available for $9.99)
5. Stick War: Legacy
Stick figure games may be a bit more challenging, especially for the newbies but once you've gone past the learning curve; you will want to go on and on. That's why they are considered to be highly addictive. If you want to try out top-notch stick figure games, look no further than Stick War: Legacy.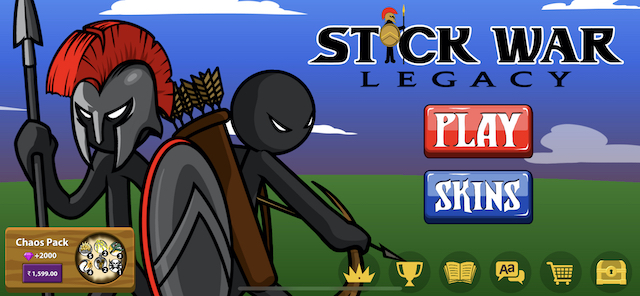 In this real-time strategy game for iOS, you can control your army in formations or choose to play each unit. To get battle-ready, be sure to build strong units and also master sword, archer, spear. Then, go ahead and destroy enemy statues to expand your territories. Whenever the opportunity arrives, do not fail to mine gold as well.
There are three difficulty levels such as normal, hard, and insane. To keep the boredom away, it includes a variety of game types like deathmatch, win before sunset, triple barricaded gold, and more. What has managed to appeal to my taste more is the zombie survival mode where survival is a huge challenge. It's about how long you can stay alive by fending off attacks. However, for showing fighting skill in all its glory, the tournament mode is a better bet.
Install: (free, a sack of gems is available for $2.99)
6. XCOM: Enemy Within
If squad-based strategy games excite you to the core, XCOM: Enemy Within is likely to win you over. The turn-based battles neatly rendered in 3D are probably the biggest highlight of this strategy game. For those unfamiliar, XCOM: Enemy Within is the expansion of XCOM: Enemy Unknown and features identical gameplay.
With the addition of a plethora of missions, new enemy threats, strategic resources, and multiplayer maps, XCOM: Enemy Within is a treat to play. What's more, it also features a ton of new weapons and equipment so that you can empower your operatives.
One of my favorite features of this squad-based strategy game is investigating the dreading threats and going all-out to defend the headquarters from alien attacks. If you also admire intense battles, you may find them riveting as well.
Install: $4.99
7. Boom Beach
Super Cell's Boom Beach is an action-packed combat strategy game. Playing as a brave commander, you will need to attack the enemy bases to free enslaved islanders and also take back the beaches. To accomplish the mission, you will require creating a solid task force with players from around the world. Once you have formed a task force, hatch a plan, and then execute it to perfection.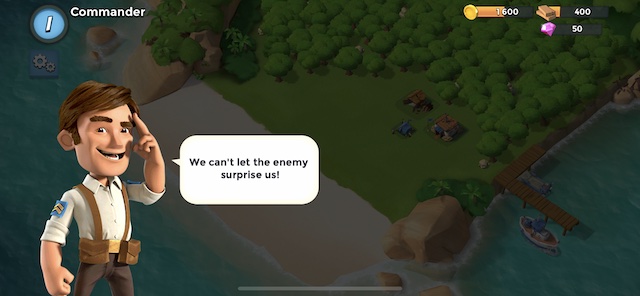 Along the way, you will unlock a plethora of secrets of the tropical paradise and also unravel the mysterious power of the Life Crystals. But beware of the blackguard bosses as they will derail your entire plan within no time. Keep in mind that not all goodies are available in the freemium version. For instance, if you wish to use extra builders, you will need to shell out $2.99/month. And the endless reserves will set you back by $9.99/month.
Install: (free, a pile of diamonds is available for $4.99)
8. Iron Marines: RTS Offline Game
As someone who is very fond of real-time sci-fi battles, Iron Marines has never failed to impress me. Boasting high-octane gameplay where you need to command soldiers as well as powerful aliens to take on space monsters and robot armies, the game gets the most out of you as a leader. Apart from improvising the strategy, you will also need to tweak the roles of your troops and plan your attacks accordingly to eliminate the swarms of insectoids and robot armies.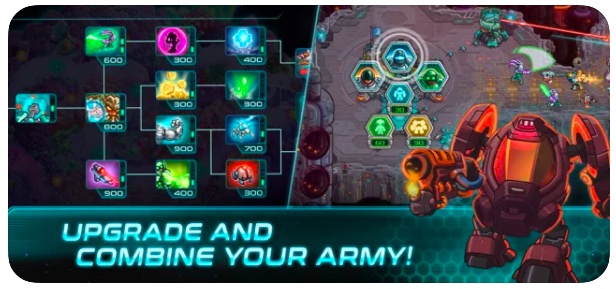 Iron Marines boasts an ever-growing collection of weapons. So, whether you wish to wreak havoc using missile launchers or take on space monsters with snipers, you've got a wide range of weapons to try. With the gripping battles, high-quality graphics, over 70 achievements, more than 20 campaign missions, and over 40 upgrades to build the ultimate RTS army, this space odyssey leaves very little room for complaint.
Install: $2.99
9. ROME: Total War
This one is primed for the folks who relish epic battles where astute strategies are at the forefront. If you are one of them, ROME: Total War should appeal to your taste. As for the gameplay, ROME is about building and ruling a mighty empire by showcasing your valor in hard-fought battles in the absorbing turn-based campaigns.
3D battles aside, managing the economy in a way that fulfills the needs and dreams of everyone is something that will bring out the best from you as a leader. Besides, you will also have to deal with civil and religious affairs while being at the helm. Though the $10 price tag might seem to be extravagant, ROME: Total War shouldn't disappoint you if building unique empires and engaging in grand battles turn you on.
Install: $9.99
10. Citytopia
If you are looking for a life beyond epic battles, you should try out Citytopia. It will make you fall in love with city-building games. Whether it's creating incredible cities with all the worldly facilities to fulfill the dreams of citizens or taking on challenging missions, it's got a variety of ingredients to deliver hours of fun.
As you go ahead, you will get a chance to unlock several neighborhoods, buy more real estate, and grab power-ups to boost the economy. Do note that every single decision will have a significant bearing on your city and citizens. So, develop landmarks, skyscrapers, and parks keeping in mind your citizens and economy.
Notably, Citytopia has also got a handful of challenging missions that you can complete to earn plenty of power-ups that will boost your progress in the game.
Install: (free, starter pack is available for $0.99)
11. DomiNations
For the folks who never seem to get enough of empire-building and war strategy, DomiNations promises to be a top pick. The entire gameplay revolves around building a nation with a robust army and then showcasing your might in the battles to expand your territory. You can choose to fight with other players in PvP combat or form mighty alliances to conquer the world together.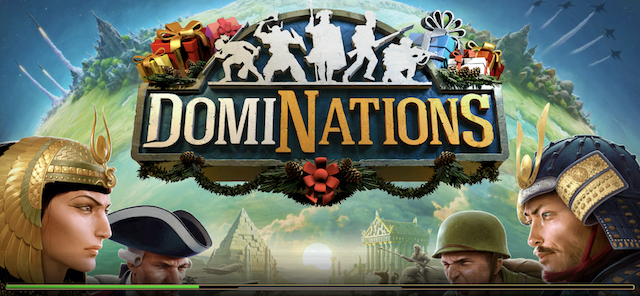 Note that DomiNations' gameplay requires you to study war strategy and bring it into the play. Thus, be sure to have a clear blueprint before going for a war. Beyond battles, you will love embarking on historic campaigns, and getting a taste of each civilization from the Romans to the Japanese. Not to mention, building historic wonders like the Pyramids of Egypt and the Roman Colosseum is also quite engrossing.
Install: (free, a stack of crowns is available for $0.99)
12. Kiss of War
Kiss of War is a war strategy game with an interesting twist. The game revolves around a group of beautiful women who are fighting against the invaders with allies. As a commander of the game, you will need to train troops and recruit female officers to lead the battle. Additionally, it also requires you to unite other commanders on a mission to defeat invaders to restore peace in the world.
The game employs a nifty control system that allows you to command multiple troops to march and even change targets on the battlefield. Therefore, you will always feel in complete control of the game. The war strategy game allows you to choose from several countries to play. With different traits and combat units along with the noted war machines that served the countries throughout history, each country comes with new challenges.
The cities and battlefields have been crafted based on the actual geography from late modern Europe that plays a vital role in making the war scenes look vivid. Moreover, the famous war machines have also been beautifully simulated to make the war scenes appear more realistic.
Install: (free, a stack of gold is available for $4.99)
13. Total War Battles: Kingdom
Total War Battles is the sort of strategy game that you would never get tired of playing. The game is about building a medieval kingdom and decimating rival lords in real-time battles. As is usually the case in war games, you will first have to recruit troops and train them so that they can defend your kingdom in the large-scale battles.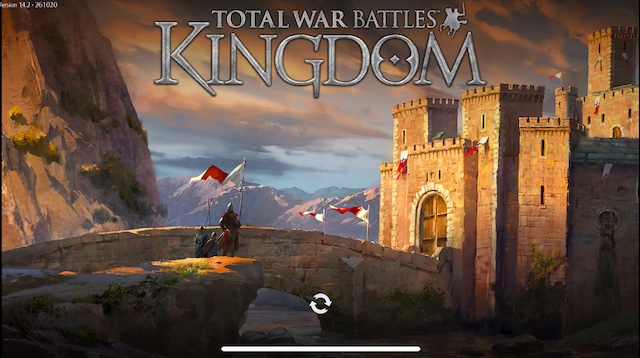 To further strengthen your dominance, you can join hands with Vikings to discover new lands and also expand your territory. Total War Battles also offers you the desired freedom to build a mighty kingdom to your heart's liking. Therefore, you can develop the cities of your dreams with world class amenities. As a ruler, managing economy is also your top priority.
With vintage graphics and matching soundtrack, Total War Battles keeps you in sync with epic battles. And if you are good at hatching and executing plans, you will like to return to the gameplay to kill your time.
Install: (free, starter pack is available for $0.99)
14. Train Station 2: Rail Strategy
How about building a global railway empire? Train Station is primed for train simulation enthusiasts. If you are one of them, you will enjoy donning the role of a railway tycoon. The game takes you on a great train simulation journey where you will discover and collect a ton of famous trains.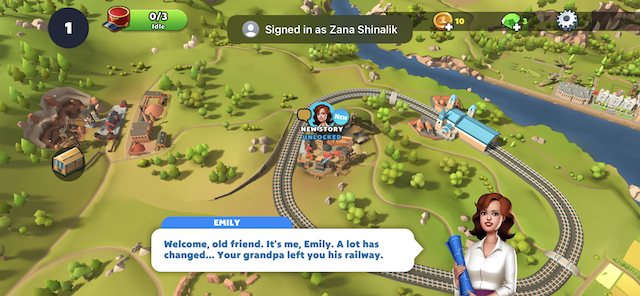 So, where does strategy come into play? Well, you will need to bring all your smartness into the gameplay while dealing with contractors. Besides, coordinating and dispatching your trains as per your strategy won't always be a cakewalk. And this is where your intuitive planning will work.
On top of all, Train Station lets you take part in new events every month and also allows you to team up with your friends during events. Additionally, you can compete with other players in leaderboards to become the most coveted player.
Install: (free, mini gem pack is available for $3.99)
15. Bad North: Jotunn Edition
If playing the role of a brave warrior is your fascination, you shouldn't miss out on Bad North: Jotunn Edition. The king is dead in the wake of Viking invaders and your kingdom is under attack. And now it's entirely up to you to save the kingdom from destruction. As you rise to the occasion to not only save your kingdom but also take your father's place, you will need to reboot the strategy. It's important to note that this is as much a fight for victory as it is for survival in the face of relentless attacks.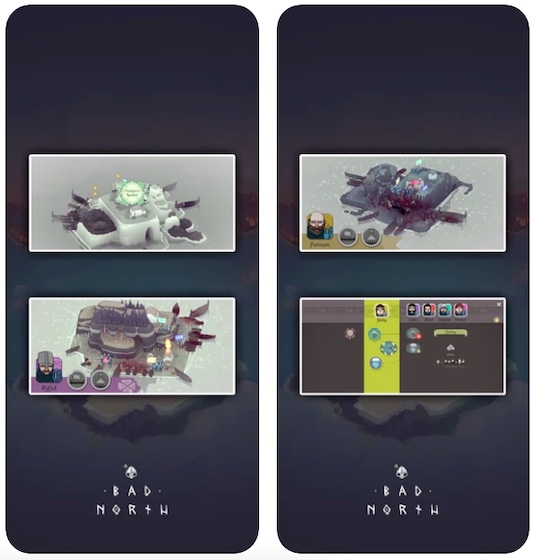 To master this real-time tactics roguelite, command your loyal subjects, give them the needed training, and also equip each one of them so that they can go all out to win the battle for you. Then, position and relocate your troops smartly to ward off the attacks and also plan your evacuations.
Bad North: Jotunn Edition has covered all the bases including rich graphics, smooth controls, and tactical gameplay. So, I expect your time at being a savior a pretty good one.
Install: $3.99
16. State of Survival
As you may have already guessed, "State of Survival" is about doing everything possible to stay alive. In a dreading world where death is always looming large and resources are scarce, survival is an uphill task. But bother not, this is where your game-changing strategy can stand you in good stead.
The Joker-inspired storyline with the challenging gameplay is the highlight of this gameplay. So long as you are ready to give your best to escape dangers, you will relish taking it on.
Install: (free, standard crate is available for $4.99)
17. Pocket Tanks
Times when you may want to play a quick yet fascinating game with your friends and family, Pocket Tanks can come in super handy. In this fast-faced artillery game, you will get a wide variety of weapons including dirt mover, cruiser, firecracker, napalm, and more to try.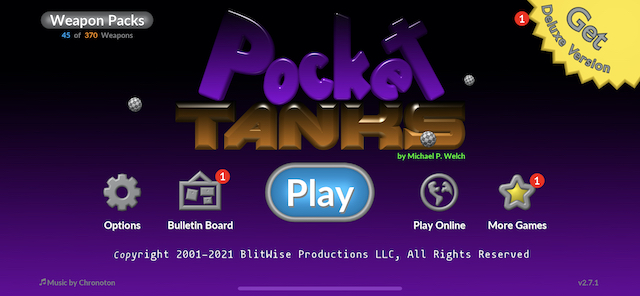 While the free version includes 45 weapons, the paid variant comes with a massive roster of 145 weapons. The gameplay is as simple as it can ever get. Pick your weapon of choice, select the desired angle, and fire! As for the tactics, it's about leaving your rivals behind in shooting the targets.
Install: (free, space pack is available for $0.99)
18. Mushroom Wars 2: Tower Defense
A good mix of tower defense and hero skill elements of MOBA (multiplayer online battle arena), Mushroom Wars 2 is one of the most loved strategy games for iPhone and iPad. This real-time strategy game is about commanding your mushroom armies to win as many towers as you can. And to make that happen, you need to upgrade your base and plan your defenses strategically.
Packed with more than 200 missions, Mushroom Wars never lets you settle down. You can challenge your friends in a battle of supremacy in multiplayer mode. If you want to fight along with your friends, there is also a co-op mode. Ranked leagues let you know where you stand in the competition. Long story short, Mushroom Wars has got the enticing gameplay to warrant a safe spot in your kit.
Install: (free, the golden pass is available for $4.99)
19. Alien Creeps TD
Alien Creeps TD is a vintage tower defense game where strategy is your biggest weapon to succeed. In this game, you are up against the endless battles against aliens to save the world. It includes 3 game modes and 50 levels with varying challenges. Plus, it also lets you take part in special events where you will face players from around the world.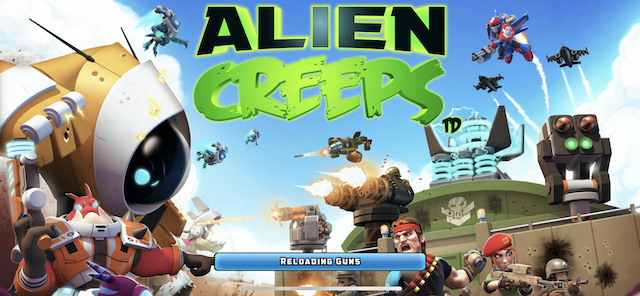 To empower your defense, unlock robust towers and deploy them intelligently so that they can help you fend off attacks. Moreover, you can also invite your friends to join your mission of saving the world from aliens. If you want to further test your gaming prowess, there are additional 58 challenges that you need to sort out in just 2 minutes.
Everything considered; Alien Creeps TD has checked off all the boxes to be your favorite tower defense game for iPhone and iPad.
Install: (free, a pile of gems is available for $3.99)
20. Game of Thrones: Conquest
Time to reignite the GoT fantasy! Game of Thrones: Conquest has got all the traits of a classic strategy game where you have to command your army and win battles to expand your kingdom. However, what makes it different from the rest is the option to collect GoT characters. It boasts an impressive roster of 30 heroes which you can choose to boost your chances of ruling the seven kingdoms.
In this game, dragons play a major role. Therefore, never miss a chance to hatch eggs, grow your dragons, and then use them to the best effect to eliminate your enemies and take the iron throne. With over 120 iconic seats of power to conquer, you have a lot at stake to fight. To ensure you remain on course to grab the iron throne, master the strategy of the pledge system.
Install: (free, pouch of gold and items is available for $0.99)
Top Strategy Games for iPhone and iPad Lined Up for You
There you have it! So, these are the best strategy games that you can play on your iOS/iPadOS device. Now that you have explored the roundup, let us know your top picks that are going to light up your battle deck. As always, make sure to tip us about any notable games that you think should be in this lineup.