Once a fringe activity relegated to basements and college dorms, competitive video gaming—now called esports—has emerged as a billion-dollar worldwide industry, spawning tournaments, tourism and even scholarships to entice top players to join college teams.
And Indiana could increasingly be a player. Consider that:
◗ The NBA 2K League—which has video gaming teams associated with NBA teams—announced this month it will hold its five-month 2022 season at the Pan Am Pavilion in downtown Indianapolis. Its first in-person event will be April 20.
◗ South Bend has converted a former theater in its Century Center convention center into an esports arena and has already hosted multiple competitions, drawing teams from across the Midwest.
◗ A number of Indiana colleges—including Ball State University and Franklin College—have opened high-tech spaces dedicated to esports competitions. Some offer classes and even scholarships to recruit students to play for their varsity gaming teams. Butler University is building a 7,500-square-foot esports facility on the first floor of an existing parking garage.
◗ The Indiana Sports Corp. and local firm Harena Data hosted their second esports combine last October, drawing about 10,000 potential college gamers and 200 colleges looking to recruit them. The inaugural 2020 event was considered the first of its kind in the nation; this year's combine is planned for March 6-9, and will add in-person and virtual discussion panels and workshops to the networking.
But despite all the activity, the city of Indianapolis is just beginning to develop a tourism strategy focused on esports—and it hasn't proposed a facility that would be dedicated to it, unlike some major cities.
Still, with the NBA 2K League and its 23 professional teams headed to Indianapolis, local officials hope the city could start to leverage its reputation as a host of major sports events to attract big esports competitions as well.
There is likely to be plenty of opportunity.
Esports comes in various configurations, but the most common is team-style play around specific video game titles—Call of Duty, Rocket League and StarCraft, for example—with groups competing either in-person or through remote game-play.
Fans can attend some competitions in person or, more often, tune in remotely, just as they might to watch other sports events. Most broadcasts occur online or on secondary cable sports networks.
"I think esports is only expanding in popularity, and it's expanding in sponsor support, too," said Ken Ungar, principal of Indianapolis-based sports business consultancy Charge. "The trend lines and growth have been extremely impressive and have not slowed down because of the pandemic."
In fact, more than 26 million people tuned into a professional video gaming competition last year, according to a report by Inside Intelligence. And the research firm predicts nearly 30 million people will watch this year.
Meanwhile, esports revenue from media rights, ticket sales, in-game purchases, merchandising, and advertising and sponsorships is expected to top $1 billion this year. That's in part because major brands are throwing cash at top-tier teams and paying gamers for ad space and promotion deals.
First steps
To capitalize on that popularity, several cities—including Chicago, Dallas, Las Vegas, Los Angeles and Philadelphia—have made hefty investments in facilities designed for esports.
Although Indianapolis hasn't taken that leap, Ryan Vaughn, president of Indiana Sports Corp., told IBJ that securing the 2K League is a big step in the city's esports ambitions.
Indianapolis beat out five other cities to earn the bid for the league's first excursion outside of New York City. It will include at least eight events entirely in-person, with the rest conducted in largely remote settings. Some teams plan to stay in town for the duration of the March to August season, while others will travel in for competitions.
"There are some tremendous properties in esports that have a huge impact on cities—that sell out arenas like [Gainbridge Fieldhouse] for days at a time," Vaughn said. "So, this is a great moment for us to sort of dip our toe in with great, trusted partners and help launch our strategy in a big way."
It's not clear how much of an economic impact the NBA 2K event will have on Indianapolis—officials say those figures haven't been calculated—but Vaughn said the real value will come from extensive media exposure and discussion among players and fans on social media.
"The media impact is going to be what's really catalytic here," he said. "These folks are obviously very digitally savvy, and they have huge followings across their platforms. So, if they're singing praises about their experience in Indy, that will only be good for us."
The 2K League is expected to have seating for a few hundred spectators at its studio at the Pan Am Pavilion, but details about how fans can participate haven't been released.
Brendan Donohue, commissioner of the 2K League, said he's not concerned that Indianapolis has never hosted a major, in-person esports event. Rather, he's excited about the doors such an event could open.
"There are plenty of cities that have never hosted an esports event, but there's very few cities that have hosted what this city has hosted," he said. "It made a lot of sense for us [to be in Indianapolis]. And when they showed us the facility, that was the final straw—we knew it was a perfect fit for us."
Some major esports championships are held in multiple cities at one time, showcasing their events in large sports arenas or convention facilities. League of Legends—one of the most popular team-based video games—has held its main events in Chicago, Los Angeles, New York and San Francisco.
Conversely, the 2K League has generally operated from a small studio space in New York, with most of its audience coming from streams on platforms like YouTube and Twitch. Last year's remote final round had about 16,000 unique streams on YouTube.
The largest esports event on record was held in Katowice, Poland, in 2017, when 173,000 people attended the Intel Extreme Masters world championships over two weekends. Many esports events draw 10,000 to 50,000 in-person attendees, with hundreds of thousands—if not millions—spectators watching virtually.
Ungar said he thinks the city's approach to esports events should mirror the one it used to land the Pan American Games, the NCAA Final Four and the Super Bowl—which included recruiting sports' governing bodies and other industry partners to the city.
"I think that if Indianapolis—and central Indiana—desires it, there should be a strategy around esports, just as it has approached other professional sports projects in the last few decades," he said. "I'd be working with the publishers and with the leagues that hold tournaments."
New arenas, new audiences
Chicago officials last year approved plans for a $30 million, 1,000-seat venue near McCormick Place, one of the largest convention centers in the country. A stadium in the Dallas/Fort Worth area that can hold 2,500 spectators was completed in 2018. And Philadelphia is eyeing construction of a $50 million, 3,500-seat arena—though plans have been on hold since the pandemic began.
But that doesn't mean Indianapolis should build a facility dedicated to esports anytime soon, Ungar said. In fact, he cautioned against building an arena until the city has a strong pipeline of esports activity already in place.
He said the city already has suitable facilities, including Gainbridge Fieldhouse, the Indiana Convention Center and other smaller arenas.
He did note, however, that the new purpose-built arenas are packed with technology that increases the production value of the events they host but also the construction price tag.
"That is an infrastructure issue, because the computing power and the video displays that it takes to hold a proper tournament [are] expensive—quite expensive," Unger said. "These tournaments are done so well … with video walls all around the arena. It's not cheap."
Colleges across Indiana and the country are jumping on the esports trend.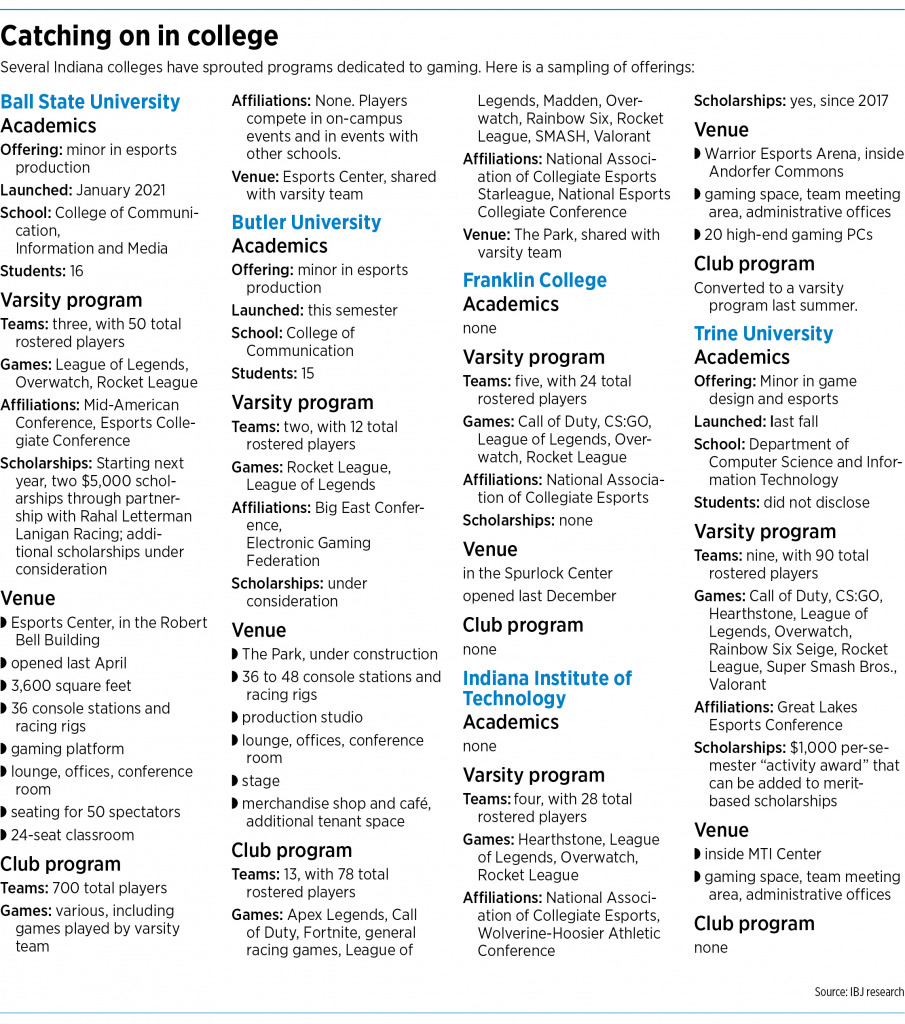 More than 170 U.S. colleges have embraced esports in some capacity—up from just 17 five years ago, according to Janelle Wells, a professor in the University of South Florida's sport and event management program.
Indiana Institute of Technology in Fort Wayne and Trine University in Angola were the first Indiana colleges to offer varsity esports teams, launching in 2017, and both now offer scholarships or financial incentives.
Ball State opened its 3,600-square-foot Esports Center—part of its College of Communication, Information and Media—last April. The high-tech space includes an interactive classroom with smart displays, a lounge area with console play, an elevated platform to accommodate six-on-six esports competitions, and stadium seating for 50 fans. It also has a control room to coordinate live broadcasts and game-play streaming.
And this month, Ball State announced a partnership with Brownsburg-based Rahal Letterman Lanigan Racing that will provide $5,000 scholarships to two members of the university's esports teams each year through 2026, part of an effort to recruit "the top esports talent in the world."
In December, Franklin College opened an esports facility in a space that previously held a racquetball court.
Butler expects to open its esports facility by fall.
The schools' interest in esports goes beyond the competition. They are using the teams and programs to help train students for a variety of esports careers, such as marketing and video game design.
"We saw esports just grow exponentially during the pandemic, so I think it is a natural progression" that colleges are starting to come around to competitive gaming, and the jobs surrounding it, as a valid career path, Wells said.
She expects esports to continue its growth in viewership and participation, particularly among children and teenagers, and as those young gamers grow up.
Which bodes well for Indiana and Indianapolis.
"Indianapolis is an amazing sports town … and [esports] is huge in viewership numbers and interest," she said. "I don't think Indianapolis is too late to the game, because esports has only continued to get bigger. I think there's ample opportunity in Indianapolis."
Ungar agreed, noting the experiment with NBA 2K this spring will at the very least show whether Indianapolis can rely on residents and visitors to support esports.
He predicted that they will, and that, if the city makes the right moves on the tail end of that season, it could reap long-lasting upsides for the city's sports DNA.
"Indianapolis is playing from behind, but it can and should catch up," he said. "Like with any growing sport, you must look at the dynamics of where the growth will happen, what potential [role] you can play—but I think what Indianapolis has demonstrated is, it can host major events, and these are major events."•
Correction: This story has been corrected to remove a reference to the way Franklin College paid for its esports venue. You can see more IBJ corrections by clicking here.