A top-level gaming competition could draw thousands of people to a stadium, in a tournament that can be watched online by millions
Article content
The next frontier of Calgary sports tourism may rely on the nimbleness and fast-twitch of fingers and mind.
Article content
Calgary Economic Development, in concert with industry and tourism-based partners from across the province, has devised a plan to target esports as the next big economic draw.
Article content
Esports is competitive video gaming. It's not just sitting down and connecting to try to out-score someone at random in the latest edition of Madden on the other side of the globe. The events that the Alberta Esports Strategy targets at the top level bring thousands of people to a stadium for a weekend, in a tournament that can be watched online by millions of viewers.
"It is very promising because we are in a great space of digital transformation, creative economy, development, creative industries expansion, so we have all the sort of ingredients for a really profitable recipe," said Tori Romano, business development manager for digital media and entertainment at CED. "It's an exciting time."
Article content
Competitive gamers often specialize in one specific title like Super Smash Bros. Melee, Overwatch League, Counter-Strike: Global Offensive, League of Legends and Rocket League and can earn north of $1 million a year.
The 2019 League of Legends Finals drew more than 100 million sets of eyeballs globally, outpacing the Super Bowl in unique viewers that year. In 2019, the esports industry was valued at $1.1 billion with year-over-year growth of 15.7 per cent while the global audience was pegged at around 495 million people in 2020.
The pandemic threw gasoline on the fire, and audiences through the social media platform Twitch exploded.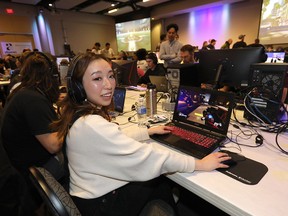 Although esports appeals to a younger demographic, it's not solely the domain of middle schoolers. The scene has a broad range of followers, including millennials, Gen Xers and baby boomers.
Article content
"There's a lot of people doing it; there's a lot of enthusiasts," said Ryan Coutts, a partnership specialist with the Alberta Esports Association, adding they engage with 21 different communities across the province and about 30,000 gamers at the grassroots level.
The Alberta Esports Strategy report released in November says landing or developing a marquee event could be seven or more years down the road. But this is by design.
The strategy calls for the development of the grassroots first to ensure longevity and sustainability in investment as opposed to a one-off event that may or may not result in further growth.
"Something like that is a real eye-catcher and an opportunity for a lot of noise," said Tom Viinikka, CEO of the Edmonton Screen Industries Office. "And I think that there is something to be said for doing that at the right moment so that you have everything prepared and can use that as a real accelerator."
Article content
The Alberta Esports Association was formed during the first months of the pandemic and has been operating in an unofficial capacity for 17 years, holding local events in the Calgary and Edmonton region. During the pandemic, this moved to remote tournaments and received federal funding coming out of COVID to further develop the ecosphere and host larger live events twice a year.
'It's electric': Calgary eSports League hopes to grow off first event

Mount Royal launching esports management certificate program

Ontario to set aside $1 million over two years for esports scholarship program

Edmonton Public Schools battle it out in eSports tournament
A November event at the University of Calgary drew 300 gamers. Their next major event is scheduled for the Edmonton Events Centre in February and the hope is to get between 600 and 2,000 contestants signed up.
Article content
"The pandemic was really quite a catalyzer for the esports industry in a lot of ways," said Coutts, pointing to traditional sports being shut down. "Now that things are a little bit safer, people are a little bit more able to sort of come together in these bigger events. It's kind of just been a floodgate with people trying to come out."
Another focus of grassroots is to build out post-secondary clubs.
Alberta colleges and universities have jumped on board. This includes the Southern Alberta Institute of Technology which began investing heavily in its pilot project through the Trojans athletic department last year.
SAIT recruited local competitive player Andrew Tran to be the team lead and the school recently completed renovations of its gaming studio before Christmas. Tran said post-secondary athletics can help fill a void to develop the esports scene here.
Article content
"It's a missed opportunity to (not) foster that kind of talent pool in Alberta. There's a lot of great talent in Alberta, who are competing across the world," he said.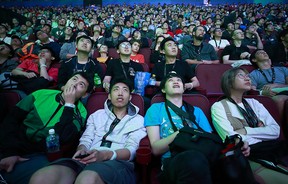 Tran added that top Canadian gamers often have to move to the U.S. or other cities to develop in a competitive environment, but this is something that can be done through post-secondary institutions.
Wade Kolmel, SAIT director of athletics recreation, said the club started because of interest from the student body and now has 30 competitive participants and 100 casual players a week from the school. The community Discord channel, meanwhile, has 500 members.
He said the Alberta Esports Strategy provides an on-ramp to take the groundswell of interest to the next level into content production for the entertainment sector, as has been done with other sports like lacrosse and basketball. The next step is to build the structure around that interest and properly identify top players and prospects to develop.
Article content
Patrick Gauvreau, student activity team lead at SAIT, said one of the big advantages esports has is its inclusivity. You don't need to be a physical specimen to compete at a high level, anybody can play and there are many different ways to get involved from broadcasting to tech support to competing online or in-person.
Esports is not officially sanctioned within the Alberta Colleges Athletic Conference or any other post-secondary athletic organization. Schools can send teams to compete at a wide range of events, remotely and in-person in different organizations like the North American Collegiate Esports League. This year they registered two teams and eight players for the Canadian Esports National Championship for post-secondary schools for the first time.
Article content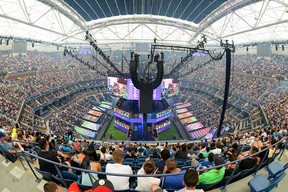 Kolmel said a short-term goal is organizing a live event for esports teams from schools in southern Alberta.
"There's a value in sport to bring people together," said Kolmel. "We traditionally play each other in other sports; there's no reason why we can't play each other in these sports and bring students into a room."
Alberta's strong tech sector ecosystem is also a fit for esports. While they are not directly linked, there are natural crossovers between talent and interests.
To develop the strategy properly, it will take funding from government and the private sector — either through direct capital investment or event and team sponsorships. One example of this financial support is a potential re-introduction of a digital media tax credit geared towards incentivizing the development of the video game sector in Alberta.
"All of these industries are about the people that are in them, and that tax credit is about retaining those people here, period," said Viinikka. "If we don't have them, we are just not going to be experts on these topics at any level, whether it's direct or indirect. And either way, that's a problem."
Twitter: @JoshAldrich03